4 Key Considerations To Improve Web Accessibility On Your Allied Health Site
By Renato Parletta
January 8, 2021
As we enter a digital age, people have the opportunity to access more information, much of it important for their health and wellbeing. Unfortunately, people with disabilities are often overlooked by businesses when it comes to putting together their websites and optimising web accessibility.   
While paying attention to this can really benefit your allied health patients as they get access to your valuable content, neglecting optimisation can result in damaging your brand and excluding visitors, causing you to lose a substantial number of your audience. 
Luckily there are simple steps you can take to remedy this.
What Does It Mean To Have An Accessible Website?
An accessible website can be used by any person. It's up to you to ensure that your website follows the basic protocols to ensure that this is the case. To this end, consider the senses that allow visitors to understand the content on a webpage. 
Of course, they use sight to see images, read text or captions, and watch videos. 
And they might listen to spoken word or music on the page. 
If a site visitor has impaired senses, another usually takes over to help them. For example, an individual with compromised hearing will be able to read text, subtitles, and transcripts to understand your content. In the case of a deafblind user, they will need a refreshable braille display to feel the text on a webpage. 
To boost the number of visitors who can access the information on your page (and who may be potential patients), you should make every effort to help them do this.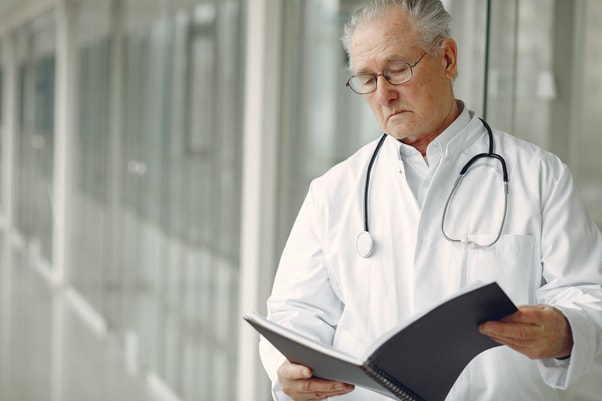 4 Key Considerations For Improving Web Accessibility
Ultimately, the goal of an accessible website is to remove all barriers that can prevent a visitor from accessing, navigating, and understanding the content of the website. Here are a few top tips.
1. Build On A CMS That Supports Accessibility
Your CMS is your Content Management System. This is used to design your website page layout, themes, plugins, widgets, and more. Whatever you build into your design needs to be compatible with web accessibility standards. 
2. Appropriate Headings Are Your Baseline
One of the most straightforward methods for improving website accessibility is to structure your text with headings. This helps users to navigate your content from the main page title (H1) down to the smallest subheading (H6). 
For example, if you were a case management provider like us, you might compile information about your online injury management system product. Splitting the content to readable sections divided by the appropriate headings helps to make sense of it. Visually impaired users with a screen reader can call out the list of headings and access the content most useful to them. 
When used correctly, this can also help to boost your SEO score, thereby generating more traffic to your site.
3. Think About Your Text Links
Screen readers can highlight important links that a user can click on. Therefore, if these are titled 'click here', they might not be hugely useful to the visitor! Make sure your link text is meaningful and allows visitors to determine from the link text where they will be directed and what they can expect.
4. Your Content Should Appear As Text
Providing all content in text forms helps patients who are hearing impaired. For example, add captions to images and videos, and publish audio clips on your website. 
Like the headings, this can also improve your website's SEO. 
Go ahead with: 
Inserting alternative (alt) text in images. This describes what's in an image, which is particularly useful for those with visual impairments. Include short, to the point information that actually means something.

Fill in the dots on infographics. Write out a full explanation of the media so that no one is left guessing about its intention.

Place captions in videos, and record an audio description for any actions without sound within the video.

Make a transcription available for any audio recordings on your website. 
The Bottom Line
As you can see, several simple steps can be taken to improve the accessibility of your website. As an allied healthcare provider, this can be a crucial aspect to reach your patient base. Not only will they appreciate your efforts in making your online content available, but they will also be able to benefit from the wisdom and insights you share on it.